All pages have a URL or Address. Here are a few examples of what they can look like:
YourSite.com/about-us
YourSite.com/programs
YourSite.com/blog
YourSite.com/living-with-hypoallergenic-dogs
YourSite.com/work-with-us
YourSite.com/some-hidden-page-Shg2hkj1 - (useful for "hiding" pages from public view)
Changing your page URL/Address will be useful to you if you want to customize a page's address link on your site. It's also useful if you migrate a site to Heroic, but already have pages indexed in Google. You can create the exact same page address that already exist in Google's index.
How to find a page's URL/Address
In the far left panel, click the

icon for the page in question -- this will open the page in a new browser window.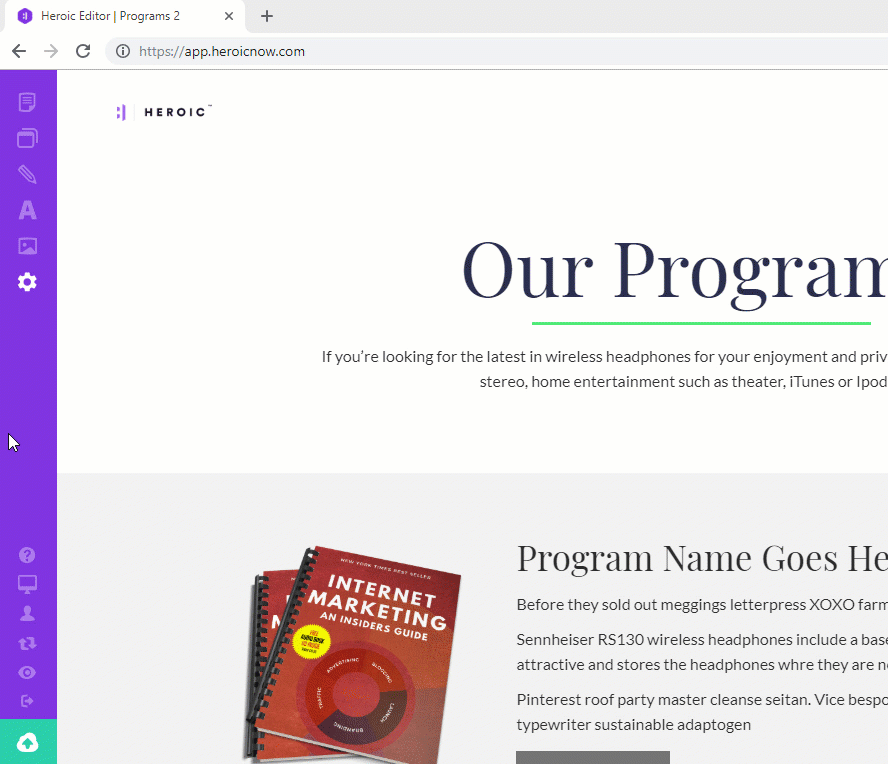 Once the page opens in a new browser window, you can copy the page's address from the address bar.

Changing the Address/URL of a page
Sometimes you need to change the URL of a page. For example -- you might want to have page URLs that are simpler, and more memorable, such as:
"https://yourdomain.com/bonus" or "https://yourdomain.com/workwithme"
To change the URL of a page:
Click

Settings

in the far left panel
Click on

Page Settings

Click on the page you want to adjust
Scroll down and edit the

Page URL

field